Ukoala Bag Review By Southern Biker Magazine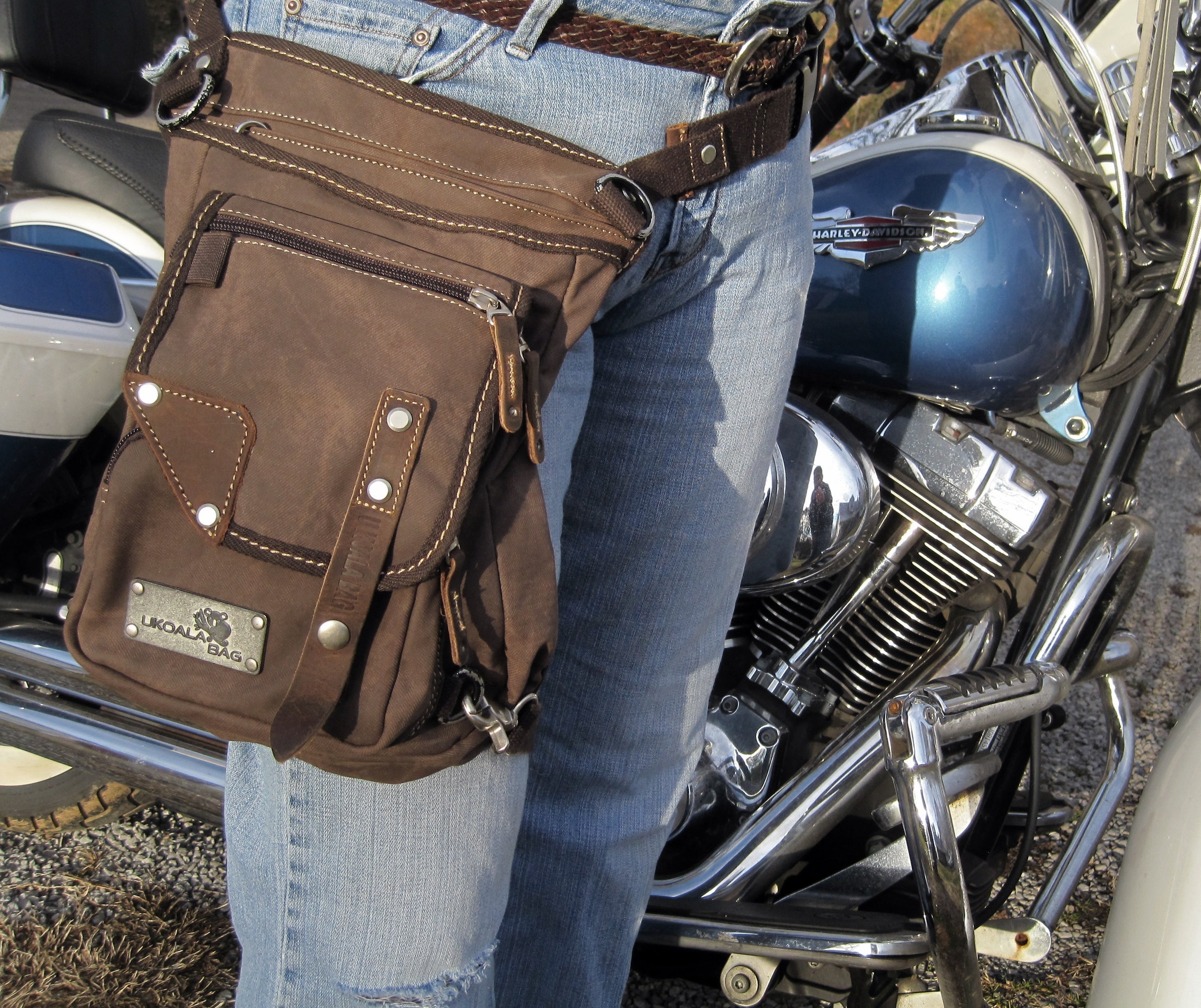 UKoala Bag Review
By Ms Mag Man, Kristin Gracy
Going to a motorcycle event in Atlanta, I was walking through the vendors and came upon a unique looking new item I had never seen. A purse-like bag straps around your waist like a holster and another strap to wrap comfortably around your thigh. They are called U Koala Bags.  I thought to myself, "Now there's a good idea."  Then the lady working the booth pointed out the concealed carry ones and, BAM!  I picked out one I liked and tried it on.  I knew I just had to have one for not only motorcycle riding, but horseback riding too.
Little did I know, on Valentine's Day, I received a nice present as my husband had ordered the one I wanted, the Beast. The feel of the Australian leather-like material was just as I remembered.  I immediately transferred the items from my purse plus my handgun to the U Koala bag. All the assorted pouches and compartments made it easy to get to all the necessary items. The comfort came when I snapped it on my waist, adjusted it to fit and walked around with it.  It felt like a light weight holster and my shoulders were applauding loudly.  It leaves my hands free to do other things that my old purse didn't allow me to do because it was always falling off my shoulders, causing me to curse.  If you prefer, you can carry it securely like a purse, cross body with a quick click of the belt snap. The next thing to do was to try it on while riding my horse and then my motorcycle.
The next couple of days, I accomplished just that.  The bag performed flawlessly.  It was so comfortable and unobtrusive that I almost forgot it was there except for the smile I had while wearing it. You see, no one knew that I was also packing my pistol and that was an added comfort.  The concealed carry U Koala Bags come with magnetic clasps for quick access to your billfold, your weapon or whatever you may need from your bag.  It also comes with zippered storage compartments that will hold everything most big bags will hold without that shoulder weight on you or that purse constantly falling off your shoulders when reaching for keys, carrying items or even reaching for the car door.
I can now go shopping, riding, etc without having a heavy, cumbersome purse to carry around and have to remind myself to pick it back up off the chairs I sit in. I'm not the only person who enjoys their new U Koala Bag. "I use this bag to carry my toddler's essentials on my hip. I have shoulders that dislocate, and bags with straps always fall down when I go to pick up the little one", says Rachael Severs. "I bought mine yesterday after wishing I had bought it sooner! Everything inside is easily accessible plus I don't have to shoulder a bag when it's not convenient", says Cindi Gilbert. "This is the most awesome bag I have ever owned and I get stopped constantly by people asking where did I get it! With purse snatchings being an issue, I never feel unsafe with this bag wrapped around my leg. My late husband was a Navy SEAL so always being aware of surroundings and making ourselves less of a target was a rule", says Sarah Hawthorne. 
To say that this is the bag you need and will want is an understatement.  I just don't know why someone didn't think of this many years ago. Ladies, if you ride a motorcycle, this "IS" the purse/bag for you, even if you don't conceal carry.  It solves so many problems that a normal purse comes with, including causing shoulder strain and many others. They come in different sizes, designs and colors with different leathers and fabrics. To find out more about these great bags, you can go to https://uubgear.com/